Geggamojas shoe guide for children and babies
Childrens shoes
Geggamoja's shoes and boots are normal size or bordering on larger. Our ambition is to always have an updated size guide on all our shoes so you can measure the child's foot and compare.

When the child starts to walk, it is time for the first shoes. Remember that it should be a pair of light shoes so that the child does not risk tripping. Even a higher shoe provides good stabilization around the ankle as they are a little unstable on the feet from the start.
Contact Us!
Are you still thinking about which size to buy? We are here for you, contact us at support@geggamoja.com or call +46 8-7582882 and we will help you choose the right size for the children.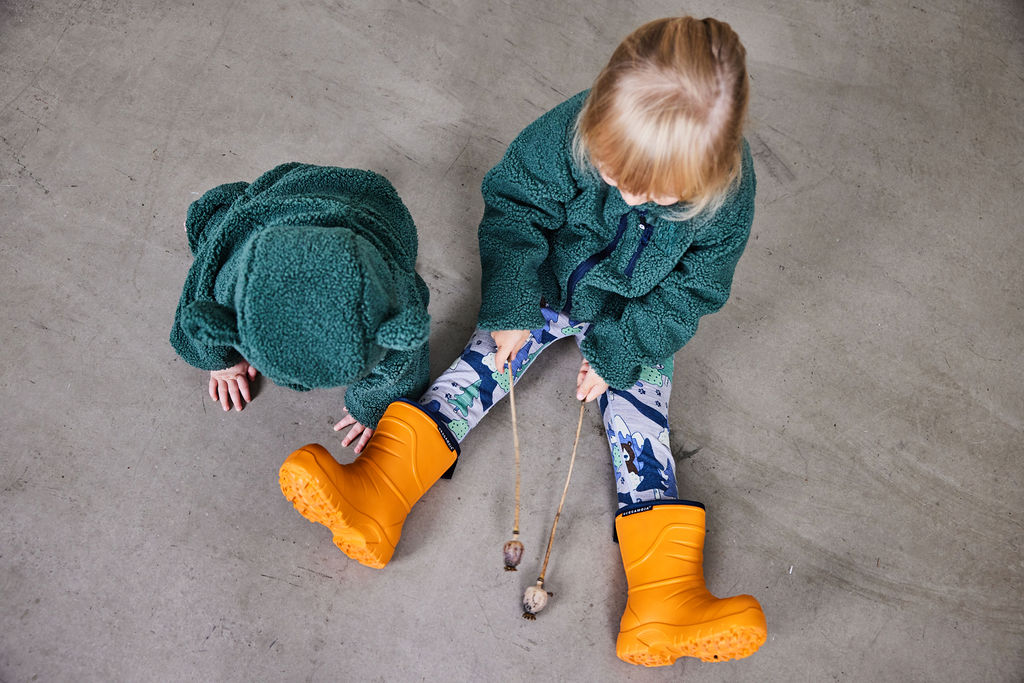 Frequently asked questions about children's shoes
How do I measure the child's feet?

Place the child on a piece of paper and draw a line at the heel and at the big toe, then you will get the length of the foot. It is important that the child stands on both feet. Measure both feet as it may differ between the two and then take the longer measurement.
How much room for growth in children's shoes?

Have som e extra space in the shoe when you buy new shoes. Children's feet grow quickly and often run around. To prevent the shoes from being too tight and hitting the toes, a growing moon is good.

We usually say that a general growth rate is 10-15 mm. When there is less than 5 mm left, it is time to buy new shoes.

On lined winter shoes and boots, 15-20 mm of growth is usually good. and on sandals less.
What are Geggamoja's sizes?

Geggamoja's shoes are quite normal in size if you look at other brands. For safety reasons, we have printed the inside measurement of the shoes under the respective size guide. It is therefore the measurement of the sole itself and not with the growth rate.
Narrow children's feet, how to think then?

Yes, we are all different and some children may have very narrow feet. Often it is not at all practical to add 15mm. Instead, aim for closer to 10mm and always make sure that the shoe is adjustable so that it fits properly.
Lined or unlined boots?

We recommend lined rubber boots for autumn and winter. A rainy summer and spring is nice with unlined. If it's early spring, make sure to wear a pair of woolen socks. We also think that rubber boots for children should be light and flexible to put on.
Weight in size: 21- 177 grams | 28- 268 g | 35- 399 g.
Shoes and boots from Geggamoja
All-weather shoes
The shoe has a waterproof mesh upper and a cushioned and non-slip sole. The padding at the ankle provides a comfortable fit and velcro closure to quickly get out and play.

Non-slip sole that makes play safer, fits in all weathers and is super light. Ex, size 25 - 412 grams and size 35 - 630 grams.
Boots
All-weather boot with or without wool lining. Withstands all weather and is completely waterproof. These lovely rubber boots keep your child's feet dry on rainy days!, and with a rag sock, the boots can also be used all year round!

The material EVA - Ethylene Vinyl Acetate has an amazingly good thermal insulation ability thanks to the millions of air cells that are in the plastic and in these air cells air is collected that is heated by your body heat. EVA material products are generally made with good cushioning, thermal insulation and moisture safety. EVA plastic is completely harmless plastic. ATTENTION! The EVA material is sensitive to heat, do not store the boots under elements or dry on high heat in a drying cabinet.