UPCYCLE -
KREATIV ÅTERANVÄNDNING
Ursprunget till Geggamojafamiljen tog form i tanken på att finna ett bra sätt att använda de resttyger som i våra övriga produktioner blivit över. Ett bra sätt att återvinna och återanvända allt, blev verkligt, och viktigt! Här nedanför kan du läsa om våra käraste
UP-cyclade medlemmar, tillverkade av våra mjuka fina GOTS-cerifierade tyger - resterna av av tygerna vi sytt kläder av helt enkelt. Den mjuka fyllningen är tillverkad av recyclad polyester och majoriteten av den också öko-tex-märkt.
Alla har sin egen favorit - vilket är din?
Vi har låtit kära familjemedlemmar, vänner och kollegor inspirera till namnen på våra kompisar. Läs mer under respektive djur här nedan.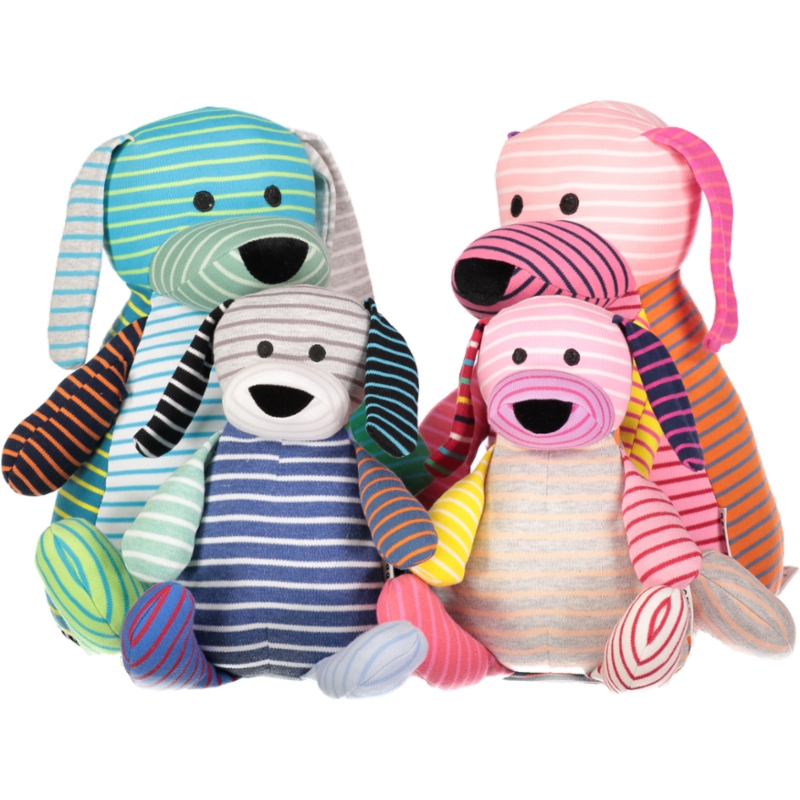 Hunden Doddi
Doddi är vår älskade, och vår allra första mys-maskot. Mjuk, randig och go - allt som Geggamoja står för. Alla Doddi är unika men tvillingar förekommer. Doddi var Annas son Vilgots smeknam på sin kusin Valter. Doddi har många släktingar, i flera utföranden. Snuttefiltar, bitringar, napphållare mm.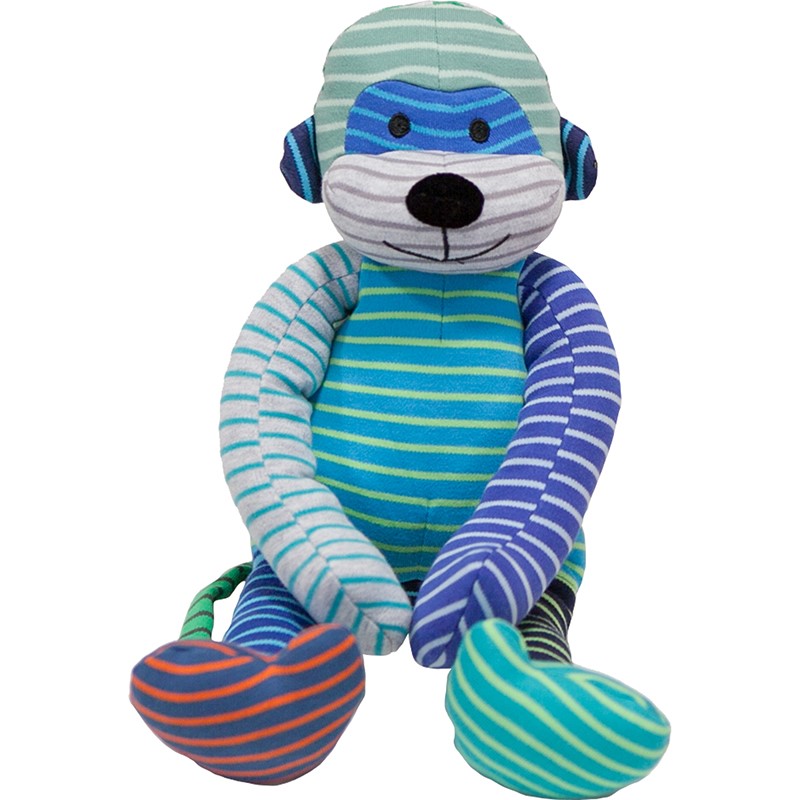 Apan Kokki
Som nr 2 kom Kokki. Det var Saras son Valters smeknamn på kusinen Vilgot. Precis som Doddi, är Kokki sydd av små färgglada och överblivna bitar från vår klädproduktion. Alla exemplar är därför unika men även här kan man få en precis likadan vän - En ihoplappad kompis som ger ditt barn sällskap och trygghet.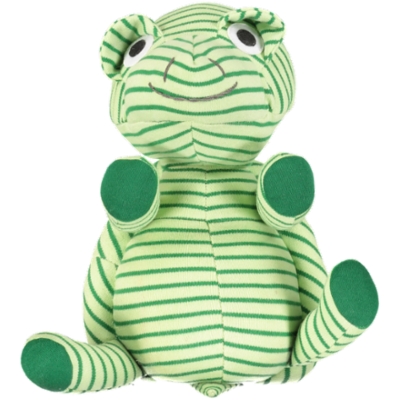 Sköldpaddan Holger
Holger är den yngsta sonen i familjen Geggamoja. Det är Saras son, och han heter Holger! Denna kärlek - Sköldpaddan Holger är skapad av återvunnet tyg från klädproduktionen. Holger har återvunna polyesterkulor i rumpan så att han sitter stadigt på jorden. Gröna och fina och lika färger i alla exemplar.
Malin the Pig
En av våra tidigare säljar-kollegor Malin, hade en gedigen kärlek till grisar, och Vips så föddes "Malin the pig". En lite större gosedjursgris som har söta mjuka öron och en fluffig mage. Innehåll av återvunnen polyestervadd. Med återvunna kulor i rumpa och klövar sitter Malin stadigt och säkert.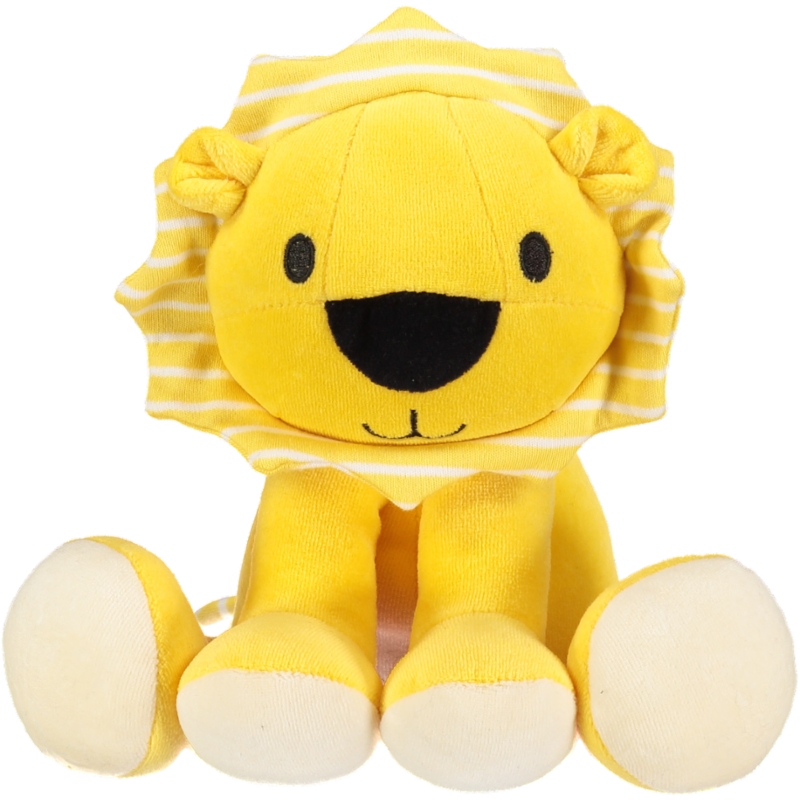 Elsa the Lion
Wroooaww.... Vår solgula snälla Lejonmjukis fick namnet "Elsa the Lion" - Elsa var en lagerkollega som varit med på Geggamojas resa från ett riktigt tidigt stadie. Elsa är tillverkad i en mjuk skön ekologisk bomulls-velour med detaljer i Geggamojas GOTS-certifierade rand.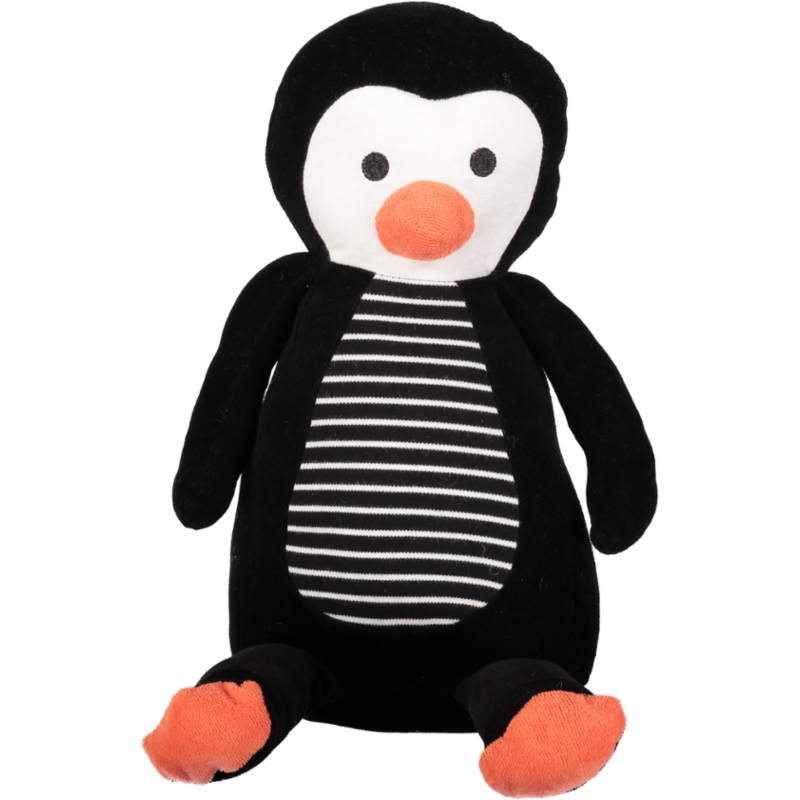 Pingvinen Edvin
Geggamoja-Annas förstfödde son, Edvin, har alltid haft en förkärlek till pingviner. När det var dags för en ny medlem i familjen fick Edvin frågan och så föddes Pingvinen Edvin. Svart, mjuk velour med orangea detaljer i samma mjuka velour. Geggamoja-randen i svart/vitt fick bli lilla magen.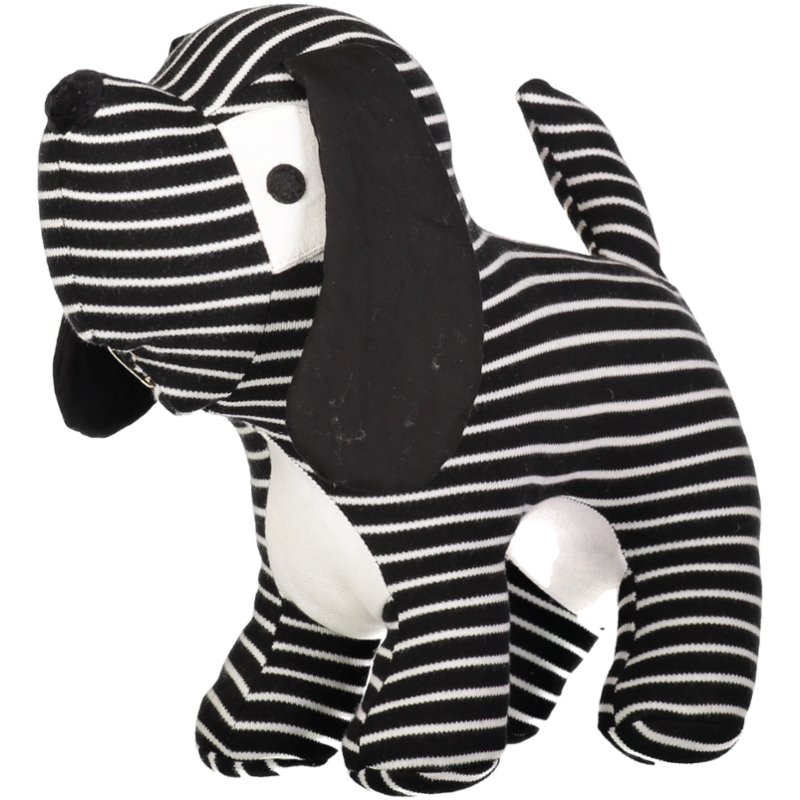 Hunden Tudor
Geggamoja-medarbetaren Malin (som för övrigt gav fick bli namnet till vår gris), hade en lite söt hund, som hette Tudor. Vi önskade en vovve i familjen och Tudor fick det bli. Svart och vit-randig med svarta öron. Mjuk och go med stadiga ben. Recyclad polyestervadd i kroppen. Kärlek!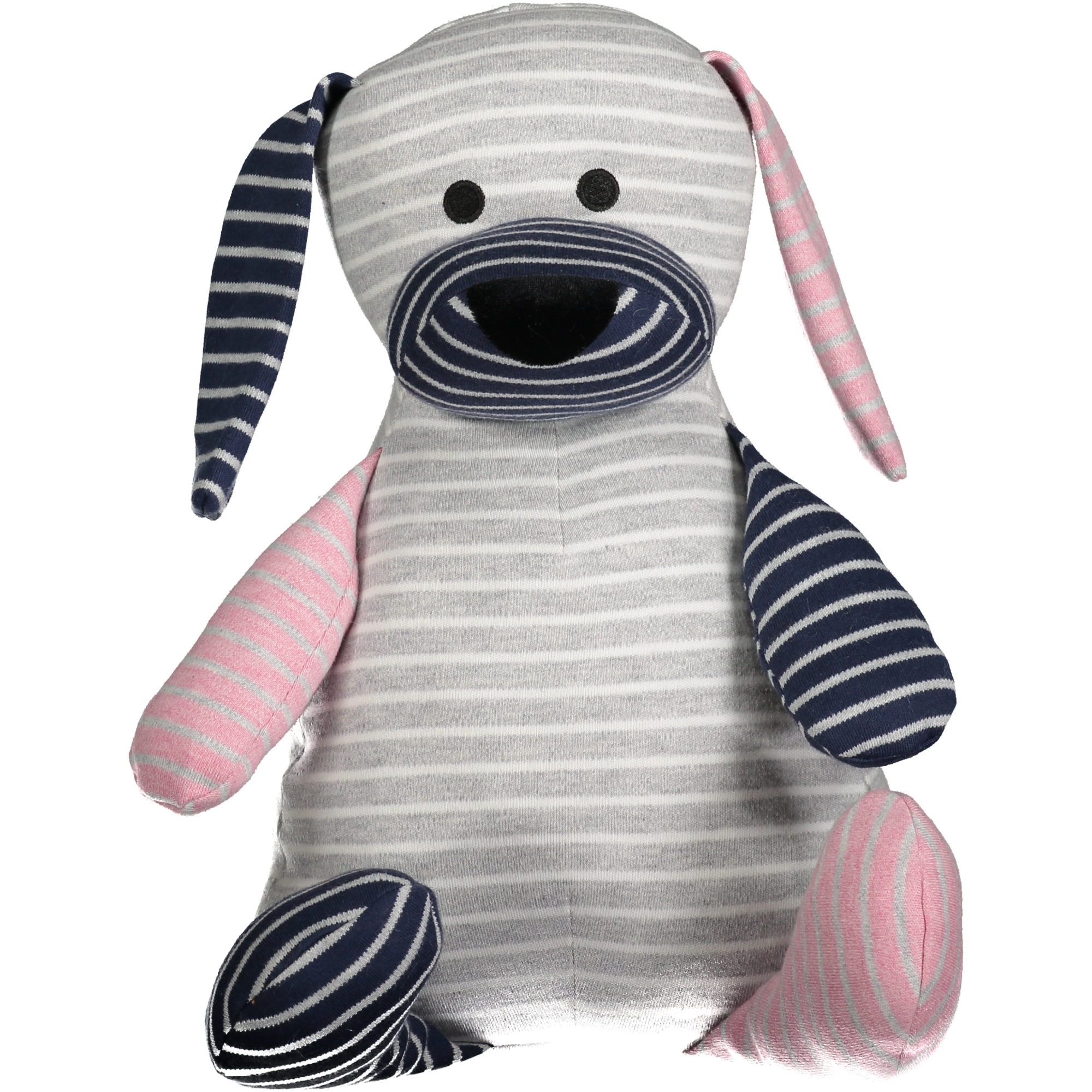 Doddi Classic
Vår första Doddi skapades med starka och färgglada rand-kombos. Nu 2019 fick Doddi en buddy som är tillverkad i de rand-kombinationer som vi tillverkar vår BAS-klädkollektion i. Lite nertonade ljusa färger i grått, blått, rosa och vitt. Classic Doddi har snabbt blivit en stor favvo-maskot.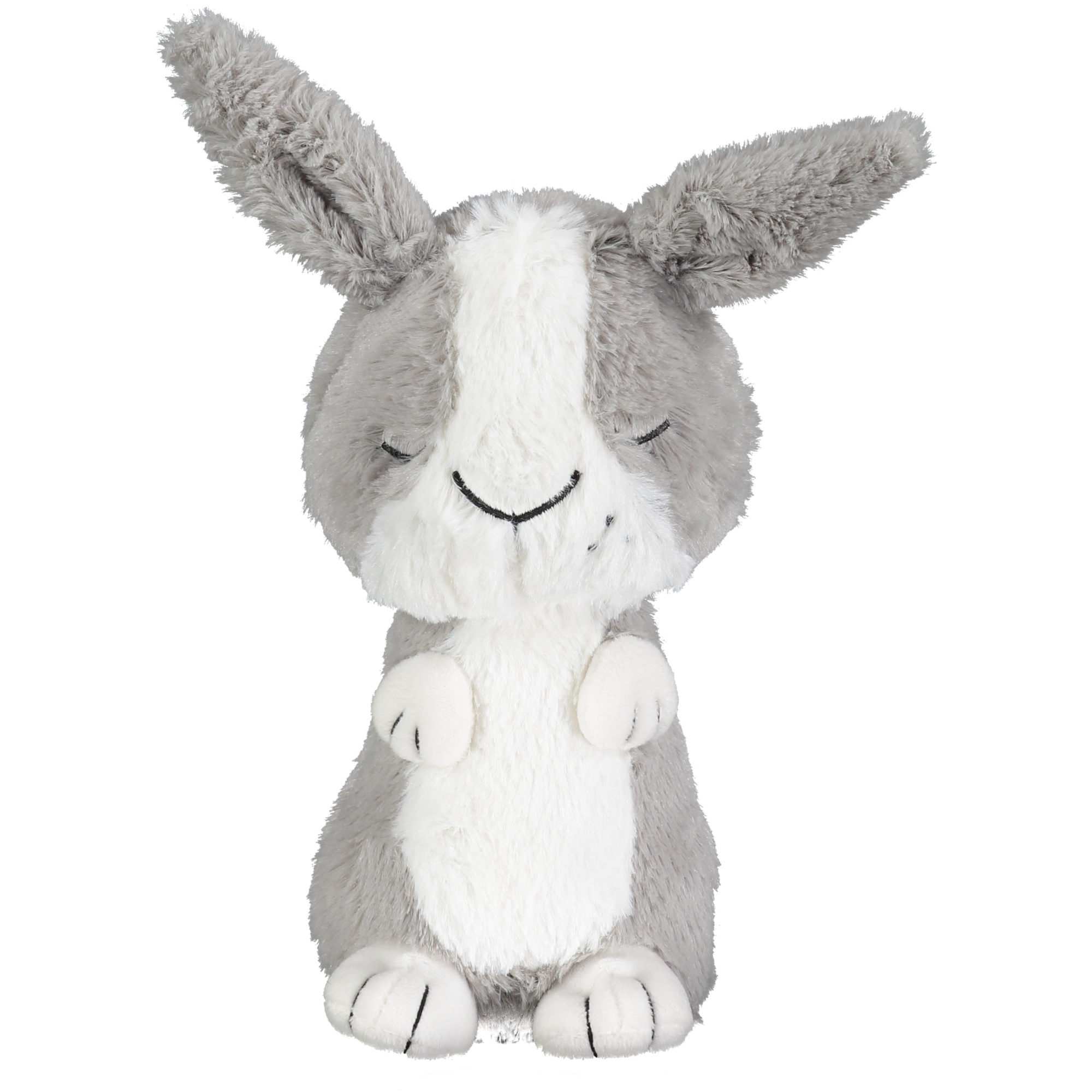 Kaninen Tove
Vår mjuka kanin Tove - Tove är Geggamojafamiljens änglabarn. Tove föddes stilla 2011 och finns i våra tankar och hjärtan dagligen.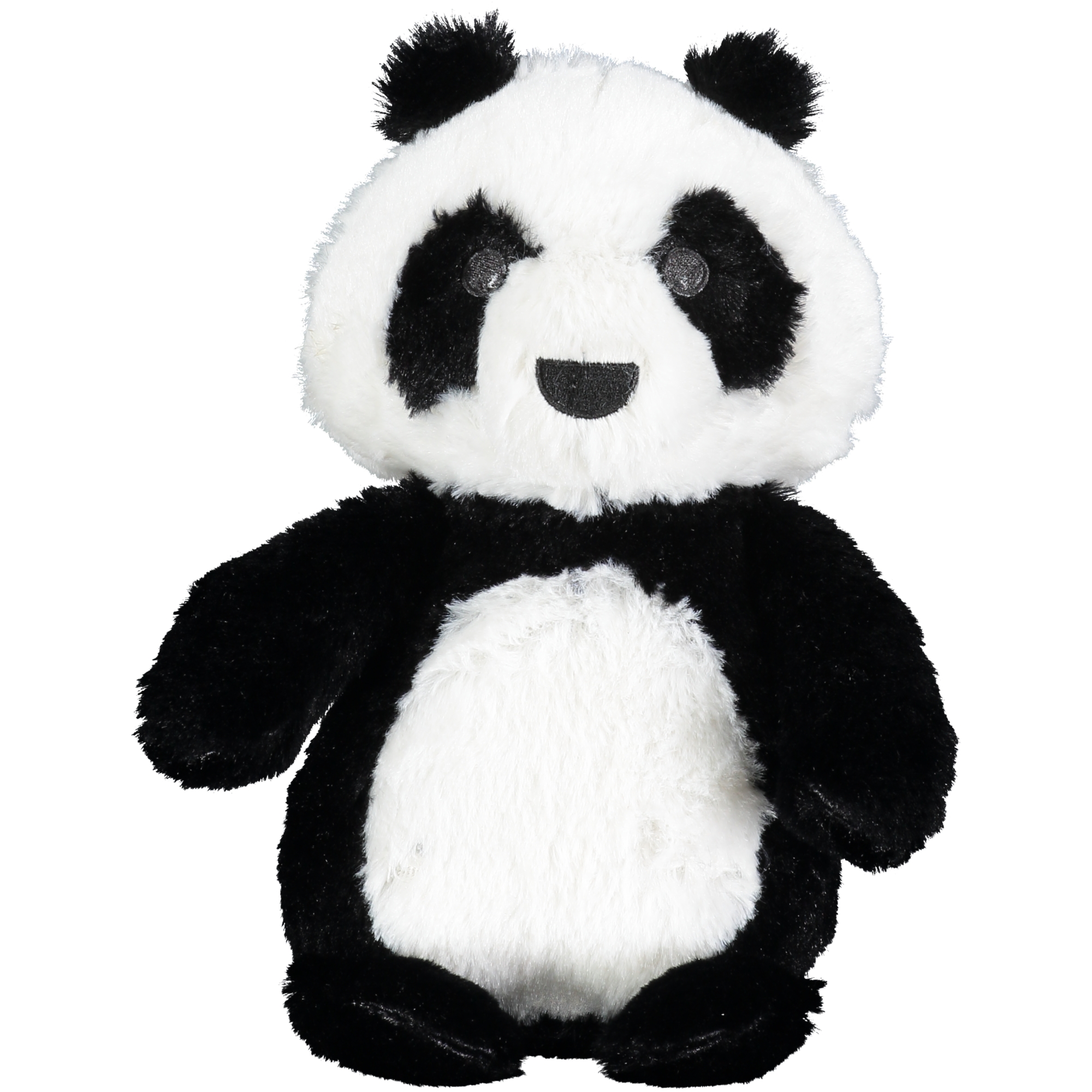 Pandan Pär
Pandan Pär är döpt efter vår morfar och barnens gammelmorfar. Pär är familjen entreprenör med humor som smittar av sig. Pär är närmare 90 år idag men pigg som få och med en härlig humor och kärlek.